Laurel Gray - The Estate
Laurel Gray's story began long ago in 1773 when our ancestor came from London. Joseph Myers, our forefather, was the gardener for King George and Queen Charlotte of England. For his dedicated service to the crown Joseph was gifted a land grant of 400-acres in Yadkin County. Joseph valued this land and grew vegetables and herbs for the new governor assigned to the Carolinas. For 10-generations Myers have farmed here in the beautiful foothills of North Carolina.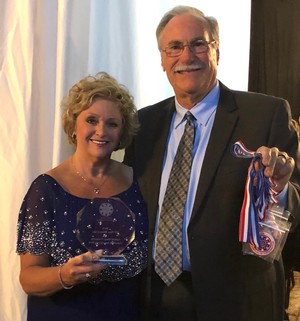 Ben (Benny) and Kim Myers met in October 1975 on a blind date to the Dixie Classic Fair. They were married on New Year's Eve 1977, exactly two hundred years to the day since the first Myers was born on American soil.
Kim also has a long heritage in Yadkin County. She can trace her heritage back to the early 1600's. As a matter of fact, her ancestor fought in the American Revolution, probably against Joseph.
Many residents of the Yadkin Valley made their living in tobacco, textile or the furniture industries but in the 1980s and 1990s there was a decline in these industries across North Carolina. Because they already owned such a beautiful farm, Kim and Benny began researching agricultural alternatives to tobacco that would allow their children the opportunity to continue the legacy that Joseph Myers began in 1773.
Throughout their marriage, Kim and Benny had the opportunity to visit winegrowing regions in the United States and Europe. When they realized their land, an 152-acre former dairy cattle and tobacco farm, was a perfect spot for a vineyard they began seeking information and some training in growing grapes, and winemaking. during this time Benny worked at RJ Reynolds Tobacco Co. and Kim continued to pursue her career in advertising and graphic art.
In April 2001, Benny and Kim planted their first French Viniferous grapes in the heart of the Yadkin Valley. They were looking for a simple name for the winery that depicted southern hospitality with a touch of elegance. By combining the middle names of their children, Ashley Laurel and Taylor Gray they found the perfect name: Laurel Gray Vineyards. Kim and Benny renovated a milking parlor on the farm in 2003 and opened the vineyard tasting room. That is when Kim came to the vineyard full-time and has acted as the general manager ever since. To this day she continues to use her artistic background by creating original artwork on their wine labels. Laurel Gray expanded in 2007 with the opening of the Yadkin Valley Wine Company. Located on the hillside above the tasting room, YVWC is a state of art 20,000 case capacity winery. Benny manages all the operations at the winery, spending most of his time there consulting with the winemaking team and overseeing day-to-day vineyard operations. The Yadkin Valley Wine Company not only makes Laurel Gray's wines but also produce wines for several custom crush clients in NC.
Working together, Kim and Benny have pursued their dream of keeping the family farm intact for future generations. Laurel Gray Vineyards currently has 15-acres dedicated to French vinifera grapes including Chardonnay, Cabernet Sauvignon, Viognier, Petit Verdot, Cabernet Franc, Merlot, and Pinot Gris. Internationally awarding-winning estate wines along with several proprietary blends are now sold exclusively at the tasting room. Laurel Grays wine success is a direct reflection of ten-generations of Yadkin Valley farm experiences and a family commitment to excellence.
Please stop in at the tasting room and say hello to Benny and Kim (they are at the vineyard or winery working hard most of the time). Enjoy some delicious wine and relax on the veranda while overlooking the beautiful vineyards, pond and winery grounds at Laurel Gray Vineyards.
Don't miss out on fun or wine!
Sign Up For Our Newsletter
Keep up to date on the latest wine releases, events, and promotions and get 10% off your next order.