Our Winemaker
Murphy Moore began her career in wine over twenty-years ago at a small winery in the Southern Willamette Valley of Oregan. Hired on as crush help, she fell in love with the work despite the long hours in the cold and wet of an Oregon fall. After three days with very little sleep "I realized I had either found a calling or gone crazy!"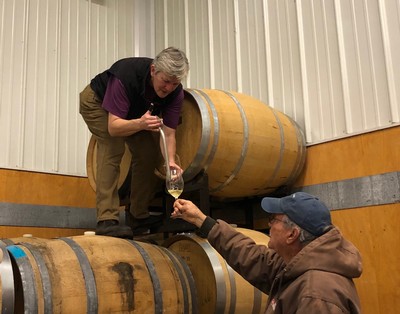 From those early experiences, Murphy quickly moved onward and upward. After less than a month at Hinman Vineyards, her third winery, she was promoted to Cellar Master. The next two years were spent learning to see the big picture from grape to bottle in a larger facility. From there, after a brief stint in Texas, Murphy moved into the Enologist position at Clos LaChance Wines in the Central Coast appellation of California. "Our winemaker included me in every trial and taught me so much. For two and a half years I learned all that I know about how wine is really made. I spent weeks at a time doing nothing but tasting trials. I know, it's a tough job, but someone's got to do it."
Murphy's next move was to take the winemaking position at Cloninger Cellars in the Salinas Valley where she produced high end Pinot Noir and Chardonnay from the Santa Lucia Highlands. When Cloninger Cellars closed its doors in 2003, Murphy was drawn back to the Pacific Northwest. Friends had been wooing her with stories of the optimum growing conditions and the explosion in the industry on Washington's Eastern slopes. After a visit in May of 2003, she joined the winemaking team at Dunham Cellars in Walla Walla where she pursued her passion for bold Syrah and big Bordeaux blends.
Murphy's pioneering spirit ultimately brought her to the Yadkin Valley where, in 2005, she took over as winemaker of Shelton Vineyards. After eight seasons with Shelton, family responsibilities called her back West for several years but she just couldn't stay away. Joining the Yadkin Valley Wine Co. crew in June of 2019, Murphy returns to North Carolina eager to take up where she left off. Don't expect to find her in the office though. She still likes to get her hands dirty and you will probably find her slinging hoses or climbing the barrel stacks pulling samples and, of course, tasting wine!
Don't miss out on fun or wine!
Sign Up For Our Newsletter
Keep up to date on the latest wine releases, events, and promotions and get 10% off your next order.