Tasting Room & Tours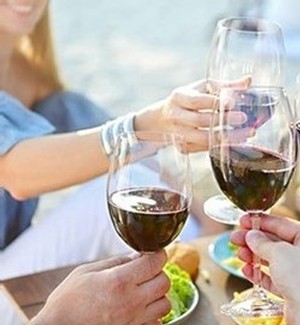 Welcome to Laurel Gray Vineyards
Open: February - December
Wednesday - Saturday 10am-5pm
Sunday 1pm-5pm
Tours are offered at 2pm and 4pm with the cost of $15 per person for a group of 5 or more. For groups of 2-4 people the cost will be $25 per person.
During the month of January we are open on Saturdays ONLY
Check out Our Events Page for all things Laurel Gray, food trucks & fun activities!
IN OUR TASTING ROOM
We are now offering Private Reserve Tastings along with flights, glasses or bottles.
Private Reserve Tastings
Beginning Sept. 2023, you may reserve a VIP private tasting experience of 6 preminum estate wines with a wonderful food paring for each. This tasting will be conducted in a separate area secluded from other customers and served by either Ben or Kim Myers, owners of Laurel Gray or the tasting room manager, Erin Shiner. During your 45 minute experience you will enjoy the undivided attention of your host. Each session will include information about growing and producing consistently international award-winning wines along with serving suggestions for each item.
This private reserve tasting experience has a minimum of 4 total reserved guests. Laurel Gray reserves the right to reschedule private tastings not meeting the minimum number reserved. Guest limit per reservation is 10.
Booking times available are 11:30am, 1:30pm, and 3:30pm Saturdays ONLY. Reservations are required 48 hours in advance with a 50% deposit. Cost per person is $50.00 and includes a souvenir, stemless glass to remember your wonderful LGV experience every time you drink from it at home.
In our Tasting Room
Flights, glasses and bottles are available anytime during our open hours.
GROUPS of 8 OR MORE PEOPLE: Please call prior to your arrival date and make a reservation. This ensures that we are staffed to provide your group the best experience possible.
You must be 21 years old in order to consume alcoholic beverages, before sampling any of our wines or beer you will be asked to show a valid photo ID.
The staff at Laurel Gray is highly trained in the presentation of our wines and have much knowledge to share with you during your visit. For the enjoyment and comfort of all guests, we kindly ask that you refrain from any type of cell phone use while inside the tasting room.
If anyone in your party appears to be intoxicated, we are required by law to stop serving the entire group and ask you to leave, therefore; we highly recommend that you do not drink anything alcoholic prior to your wine tasting adventure.
If you are arriving with a tour company please refrain from indulging in the limo. Wine country in the Swan Creek and Yadkin Valley AVA is a wonderful experience and the wineries are close in proximity. Because of the concentration of vineyards in a small geographic area you will have the opportuntiy to enjoy many different wines, beers or spirits during your trip.
Educational vineyard tours are available any day, our staff is availabe, at 2 and 4pm. The tour is conducted by owners, Kim or Ben Myers, or a senior staff member. Cost is $25 per person, with groups of 4 or more at $15.00 per person. Each tour lasts approximately 45 minutes and is intended to be educational. We hope you enjoy it as much as we enjoy giving the tour.
We do not reserve seating on our beautiful outdoor veranda, porches and patios, and indoor rooms. These areas are for you to enjoy while spending your afternoon at Laurel Gray Vineyards during normal operating hours. All seating is on a first come first serve basis. Please make sure your belongings only take up space at the table where your group is seated to allow room for our other guests.
If you come hungry during the week, never fear! Delicious deli-type food items along with NC local packaged products are available for purchase in the tasting room.
Pets are welcome in our OUTDOOR areas at Laurel Gray but we do not allow them inside. For the comfort of all our guests we ask that your pet remain on a leash at all times and you clean up after their visit. Please refrain from placing animals on our outdoor seating to keep it in good shape.
And, we're easy to get to!
We are only 1.5 miles west of the intersection of 1-77 & Hwy 421 in Yadkin County, NC.
Don't miss out on fun or wine!
Sign Up For Our Newsletter
Keep up to date on the latest wine releases, events, and promotions and get 10% off your next order.