Yadkin Valley Wine Company
Making and Designing Award-Winning Wines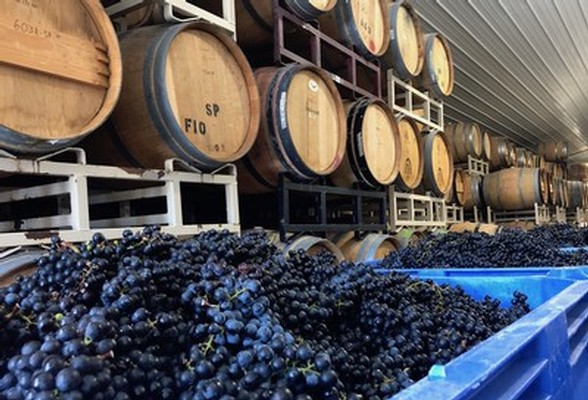 Laurel Gray's wine is made on premises at thier production faculity– Yadkin Valley Wine Company. The winery is an impressive state-of-the-art 20,000 case production and custom crush facility producing many award-winning wines for Laurel Gray along with other vineyards around North Carolina.
Besides state-of-the-art crush pad equipment, the winery features 37 stainless steel tanks ranging in size from 26 gallons to 3,000 gallons and a GAI bottling and labeling line. Yadkin Valley Wine Company also has 500 wine barrel capacity. All the analytical testing of both grapes and wine are done in-house in a fully-equipped laboratory. Yadkin Valley Wine Company is a turnkey winery operation taking the grape from harvest through bottling and labeling for retail sale.
At Yadkin Valley Wine Company, quality is always the driving force behind all aspects of the winemaking process.
For more information about custom crush opportunities, please call Benny Myers – (336) 467-0257 or via email at benny@yvwc.com
Don't miss out on fun or wine!
Sign Up For Our Newsletter
Keep up to date on the latest wine releases, events, and promotions and get 10% off your next order.